Manual brakes are gradually going into extinction in this 20th Century; electronic parking brakes are quickly taking over. Modernization in the automobile industry has improved the brake system of vehicles, as manual brakes are rapidly being swapped for electronic parking brake. Electric parking brake is so unlike its handbrake counterpart which only involves pushing a button. This action feeds the order into the vehicle's computer which automatically applies brake.
How Do Electronic Parking Brakes Work? +Electronic Parking Brake Release Tool
What is an Electronic parking brake?
The electronic parking brake is an advanced version of a manual brake. Electronic parking brake functions just like the manual type; it prevents your vehicle from moving forward or reverse when in park position, but will remain motionless.
Electric handbrake is more preferable when compared with manual brake as it features loads of improved alternatives.
You can choose from hill-hold or auto-hold option. The hills option in the EPB makes sure that your car doesn't roll away accidentally and the auto-hold option is used to keep the pressure applied on all the four wheels.
Related articles
How Does Electronic Parking System Works?
The electronic parking brake system is made up of three main components:
actuator/electric motor
electronic brake module
electric switch in the cabin
So, how do electronic parking brakes work? When the electric feature is turned on, the electric brake module collects the commands and the brakes respond. Now there are separate electric motors on each brake and they set off concurrently, forcing the motor in the brakes to constrict into the disc. This causes the car to stop. The electronic parking system is competent, dependable, and fast.
Since there's no form of manual or mechanical functionalities, the electronic parking brake is immediately released automatically when you press the accelerator.
Advantages of Electronic Parking Brake
1. Emergency brakes can be applied with electronic brake
With electronic parking brakes auto hold, you are able to apply the brakes in cases of emergency. The scenario of how do electric parking brakes work in emergency situation simply involves blocking the rear axle by closing and opening the brakes severally. This automatically brings the vehicle to a stop. This emergency application of the electronic parking brake is more consistent compared to the manual brakes, mainly when the car is on high speed.
On the contrary, applying manual brakes when on high speed may cause the friction to upset the contact between the tires and the road. When this happens, you may lose control of the vehicle, or the car may summersault.
With electronic brake system, prompt action is taken in emergency braking by merely opening and closing the brakes severally.
2. Electric Brake System Boasts of Automation
The electrical parking brakes are an absolute electromechanical parking brake which is poles apart from its manual counterpart. On how does electronic parking system works, there's an incorporated scheme fitted for the sole purpose of stopping your vehicle by pressing a button. The electronic parking brake helps to halt front and reverse movement, courtesy of the automated, efficient, and accurate system which makes it exceptionally trustworthy than the manual brake system.
3. Electronic Brake System Has Improved Vehicular Control
When compared to manual brake system, electronic parking system is matchless because it provides on the spot results since there's no cable. Cars with electronic handbrake system are smooth and more unswerving.
4. Electronic Parking Brake Features Child Safety Lock
The electronic parking brake features a child safety lock to avoid accidents. You may ask "how does electronic parking system works with child safety lock? It would be impossible for anybody to deactivate the brakes if the ignition is off place. It takes negligible space in your vehicle since there are no cables or wires, thus giving it an edge over manual brake.
Disadvantages of Electric Parking Brake System
It is Costly
The electronic parking brake is quite pricey. There may even be problems when it comes to replacing a faulty piece in the electric parking brake because it would require taking out the component from a different electric braking system for repairs.
Faults can occur
Fault can occur with the electronic parking brake system, just like every electronic system. This can affect the working of the system. A problem as trivial as low voltage can trigger a fault with the electric parking system. Also, lack of proper maintenance of the electronic parking system can activate a short circuit between wires that Moreover, poor maintenance can cause a short circuit between the wires that bond the entire system.
Electronic Parking Brake vs. Manual
Electronic parking brake needs little or no effort yet offers safer grasp over vehicle. The reverse is the case with manual brakes.
The electronic system features 'hill hold assist' function, which keeps the vehicle still on steep roads and allows you pull away without hitches, the manual system lacks this feature.
The electronic parking brake makes use of a switch to trigger a pair of motors before engaging rear brakes while manual brakes on the other hand utilizes a wire to draw in the brake shoes at the rear wheels.
While the manual brake system occupies much space, the electronic parking brakes takes very little or no space.
Electronic parking brake release tool| Electronic parking brake tool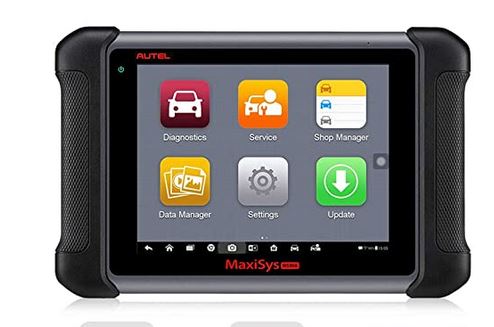 The Autel MS906 is one best bidirectional scan tool that has 1.3, GHz quad-core ARM Cortex-A7 + 1.7 GHz dual-core ARM Cortex-A15. It has both advanced and common features.
This bidirectional OBD2 scanner features high-end processor which enhances fast scanning and rapid results.
The battery strength of this bi directional scan tool for car is 5000 mAh, meaning it can last up to 5 hours. Autel MS906 is one of the best OBD2 bidirectional scanner that can carry out diverse professional diagnostics such as ABS, SRS, ECU coding, EPB, actuation tests, adaptations, TPMS programming, oil reset, SAS calibration, and DPF.
This bidirectional obd2 scanner features an 8MP camera that is able to capture pictures and make videos.
The weakness of this product is that it only supports ECU programming for Benz and BMW cars.
Pros
It is extremely fast.
Updates easily after registration
Enough memory to save previous data (32GB)
Conclusion On How Do Electronic Parking Brakes Work
The electronic parking brake system is an important system in vehicles as it provides superior control over the brake system. If you decide to go for the electronic brake system, ensure your mechanic check the brakes on regular basis. This checkup can be quite expensive due to the tools needed for the job