It is true that car brakes are the most vital component in any vehicle. That is why it's very important to work on any engine issue that comes. Sometimes, it can be argued that brake issues are even more critical then engine issues since they are what determine whether your car actually stops or not and for a fact it a matter of life and death. This is the reason you just can't afford to take brake-related issue lightly.
Sometimes, your car become very noisy whenever you brake which may an indication or a warning sign informing you that there's something wrong either with the brakes or the rotors.
From statistics, it has been known that some car owners like to ignore such sound for the fear of an extensive repair. But you shouldn't do this mistake! By ignoring your vehicle's moaning and groaning could cost you a lot of money to repair down the road and even more dangerous.
One of the major cause of brakes noise after new pads and rotors is having excess brake dust that is trapped between the caliper and the rotor.
Basically, whenever a brake pad is changed, an expert mechanic is supposed to spray brake cleaner on the calipers and rotor to ensure that the brake dust that has entered in between the two components is totally removed.
But once this is not completed, this extra brake dust will be trapped between the fresh pad and the rotor. And when these dusts are heated, they will definitely make an annoying noise.
Sometimes it might be nothing to you and the sound will go away on its own. In case the sound becomes consistent and does not want to go away or even gets worse, then it simply means you have some type of brake problems. Also, read this article Price for Brake Rotor and Pads Replacement Cost?
Causes of Brake Noise After New Pads and Rotors (new brakes squeaking at low speed)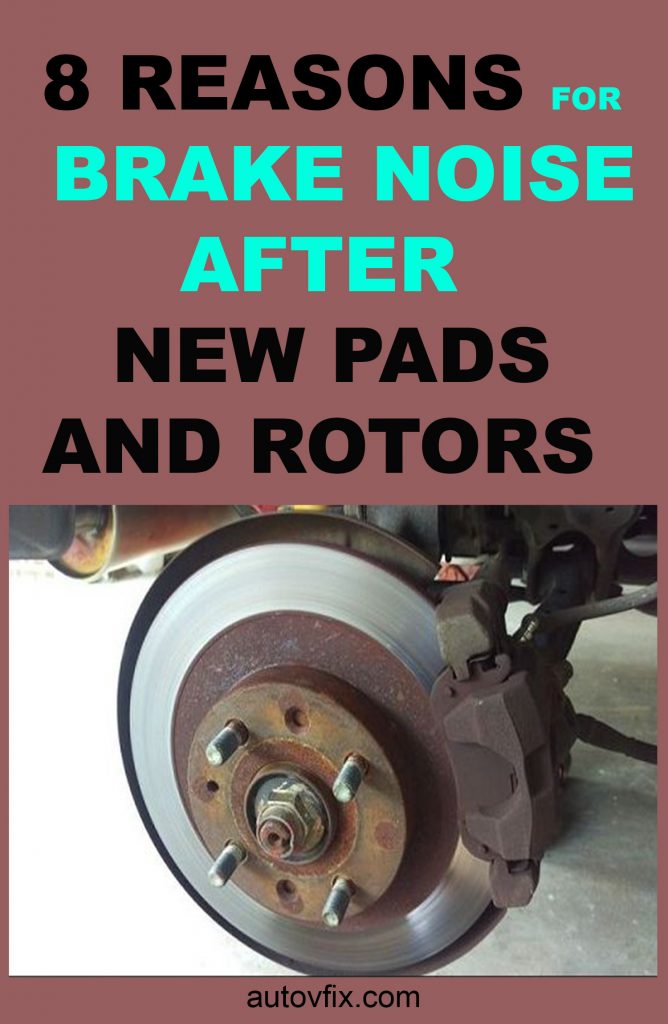 Below are causes of brake noise after new pads and rotors and our response to new brakes squeaking at low speed
You Might Have Some Stone Between Rotor And Caliper
The first this list if you are wondering why do my brakes squeak after new pads, is stone in between the rotor and caliper
Sometimes your brake system might have debris from outside that stays in it, and this debris could be little pieces of rock or gravel that gets stuck in the caliper. And sometimes the debris will rest between the rotor and caliper, which will cause scraping or grinding noises that will occur and possibly vibrates.
Many times I hear people complaining about new brakes squeaking at low speed, and yes, you'll continue to hear these noises, even if you are not applying pressure to the brake pedal. As long as the piece that's lodged in there is not removed, your rotor will eventually get damaged and will at the least need to be resurfaced and possibly replaced again.
Please note that when something gets stocked in your brakes, it can even cause your brake pads to get out of alignment and cause uneven pad wear. Once this happens, performance will be reduced and you'll need to replace your pads sooner than normal.
Stopping Your Car While Panicking Can Leave A Glossy Finish On The Brake Pad
Anytime you have a panic stop or a hard stopping, it will heat-up the brakes leading to a glossy finish or glaze on your pad, and this will cause a squeaking sound. This is one of the reasons people keep asking, why do my brakes squeak after new pads. Although some good auto shops will pull the pads off the car and sand them down to ensure the removal of the smooth surface.
If your brakes still squeaking after replacing pads and rotors then it could be that you got and fake cheap brake pads. This can also make you experience your new brakes squeaking at low speed.
Most car owners want to save money, so they buy cheap brake pads from auto shops. Please you shouldn't do this. By relying on poor quality brake pads can literally mean the difference between a near collisions versus a totaled car with serious injuries.
Note that in addition to performance, cheaper brake pads are poorly produced and can have a defective measure such as metal chunks in the pad material which can scrape against the rotor which will cause a severe damage to your car.
Most times you will notice that you will save even more money in the long run by buying a reputable brand for your brake pads.
Related Articles:
One other reasons why people complain that their brakes still squeaking after replacing pads and rotor, is because they don't have the idea that brake pads have an average lifespan of 20,000 miles. And sometimes, they may not last that much longer for some reasons. This possible reason is caused by car owners leaving their automobile in their garage for weeks. You should know that a car being Idle with the effect of bad weather can cause rust and corrosion on the rotors. And in this case, the rust will spread to other parts and destroy them. So try as much as you can to drive your car regularly, at least to avoid this problem.
Leaving The Brake On The On Position
One of the causes of brake noise after new pads and rotors is leaving your car brake on the on position. You should know that there are caliper pins in your brake system, which apply and release the brake pads. And if one of the caliper pins is stocked in the apply position, the brake pad will be applied at an angle (or cockeyed) to the rotor. Anytime both pins are stuck, the brake pad will be stuck against the rotor, which will cause glazing, noisy sound and sometimes a burning smell. But sometimes, it is very possible to lubricate and release the stuck caliper pins. And in other cases, you need to replace the calipers completely. Also, it's likely that you will need new brake pads and rotors.
Whenever there is a brake job done on your car or replace a brake pad, you must replace the shims. It is the reason car owners ask, why do my brake squeak after new pads? Some unprofessional mechanics may avoid this if they want to do their job fast, so ensure they do replace them.
If you don't change brake shims, they will eventually get worn down. It will often result in a piece of the brake shim making contact with the rotor or other metal parts of the brake system. And if metal keeps touching other metal like this, you will hear sounds from your brake system as you drive the vehicle. Ensure the shims are replaced too.
Another cause of brake noise after new pads and rotors is a faulty wheel bearing. So if you hear the grinding noises from your wheels, brakes still squeaking after replacing pads and rotors or observe vibrations which alternate from quiet to loud, then it means you may have a worn-out or damaged wheel bearing. You should then examine the wheel bearings carefully and replace them if possible to get rid of new brakes squeaking at low speed and noisy sounds.
Lack Of Lubricant On Brake Parts
Anytime you want to install brake pads, you should try to lubricate the backside of the brake pad backside with a brake caliper lube. Once you ignore this simple step, then the metal of the pads and metal of the caliper piston will come against each other when you apply the brake which will cause your brakes still squeaking after replacing pads and rotors.
Note that in addition, the caliper slider pins which connect the two sides of the brake caliper together should be generously lubricated before you reinstall to avoid your new brakes squeaking at low speed.
So these are the common causes of brake noise after new pads and rotors are replaced. Be sure to bookmark this page for later reference and share it as well.
What to Read next: