Are you looking for the best car steering wheel lock for your car? This post will list and review some of the best steering wheel locks on sale in Amazon. We will also talk about how to disable steering wheel lock in case you ever find yourself in a situation where you have to disable it but are not sure how to do so.
If you have a car, light truck or SUV you would like to keep them secure anywhere they are. This tool will act as a deterrent and keep the vehicle safe.
Car steering lock or Steering wheel locks comes in different shapes, sizes and enhanced features to match modern-day realities of high tech thieves.
Some steering wheel lock has integrated mechanical features which makes them very hard to break, while some have basic features and are easy to store and install. It doesn't matter the size or type you pick what is vital is the security of your vehicle.
Besides, there is an alarming report that over 3,000 cars are stolen each year. In this list, you have 5 of the best steering wheel lock products that you can rely on to keep your cars safe.
Please watch this video below for how to install a car steering wheel lock
How to Disable steering wheel lock
The how to disable steering wheel lock in this article will be discussed much later after we are done with some of the best car steering wheel lock
5 Best Car Steering Wheel Lock 2020 (How to Disable steering wheel lock)
Design features of this car steering lock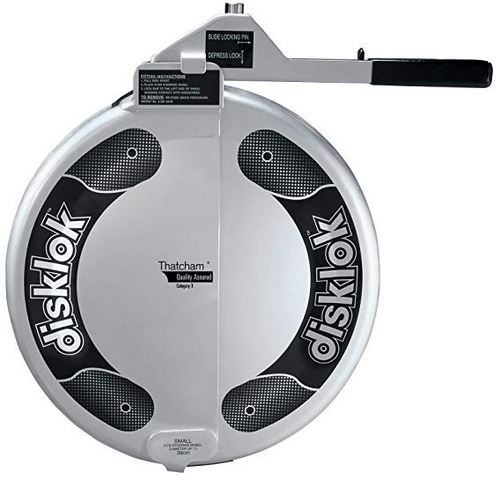 Starting this list of best car steering wheel lock with this Disklok security device. Disklok Security Device is one of the best steering wheel locks you can buy in the market today. The product is not only outstanding but unique. It will give car owners the safety they want for their cars. Dislock ships with a cover that protects the center of the steering wheel where the airbag is. Dislock has 3 sizes and before you buy the product confirm the actual size your car will need.
The unique thing about this patented design is that it spins when thieves try to steal your car. This prevents the criminals from going away with your car or damaging it. Also, the side locking pin was carefully created to prevent picking the lock or drilling.
Disklok has over 1 million combinations that make the lock secure. Besides, 10 internal disks are activated when a thief attempts to pick the lock. Also, the barrel of the device automatically rises higher to cut off any space for attempts to pick the lock.
Suitable features
Dislock was made of reinforced steel weighing 8.8Ibs that makes it difficult to bypass. The lock has 3 keys with tag numbers which you must store separately and properly. But in case you misplace it the Maker can cut duplicate keys for you provided you have the key tag numbers.
Verdict:
The lock has a uniquely patented design that keeps car safe by rising to fill the whole steering wheel leaving no room for thieves to pick the lock. It is $159.98 on Amazon. Pros:
Unique design,
has 3 keys,
made of reinforced steel,
can be used for steering wheel os 13.7 inches.
Cons
You have to measure the steering wheel for an exact size.
Design features on this car steering lock
This is one of the best steering wheel lock out to try for sure. The Club 1000 is widely used by car owners for its self-locking mechanism. Also, you can activate this design by pulling it just once to secure and lock your car with it. One of its features is the gauge that helps you to know the exact lock force to apply. The new Club 1000 Steering Wheel Lock comes with an improved design. Also, its simple design acts to stop daring thieves once they sight it on your steering wheel.
Suitable features
This car steering wheel lock was manufactured with core-moly and this makes it durable and difficult to bypass. As you know thieves usually resort to sawing of steering locks. But the Club 1000 resists sawing, hammering and Freon attacks. Also this steering wheel lock fits all cars and trucks. The versatility of the design makes it easy to install by first time users and also to swap it for any of your cars when you need to.
Verdict on this steering wheel lock club
It comes with a cro-moly design which fits all cars and trucks. And it cost $37.96 on Amazon.
Pros
It fits all cars and trucks
And they manufactured it using cro-moly materials
Hammering and sawing it cannot break it
Besides, its design deters thieves at sight
Cons
Also, power tools may be able to cut it.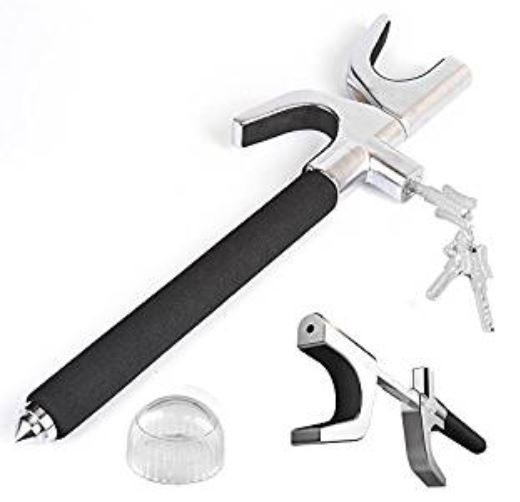 Design features
The design for this car steering lock is multifunctional in that you can use it as a hammer, during an emergency if you are locked out of the car and as self-defense tool when under attack. The materials used to make this versatile steering wheel lock are aluminum and steel. Besides it is fitted with the new G cylinder widely believed to be very strong. And this hyperbolic lock cylinder is an added barrier to stop thieves.
Suitable features
You can use this design in numerous types of steering wheels. Also, it is a good choice if you want to fit your inner steering wheel with a width ranging from 7 to 12. Its shortest point is 18 cm long and if extended, its length is 31cm.
And it is easy to install. All you need to do is to pull the ends of the lock away from each other to hook the left and right side of the car steering wheel lock, in the steering wheel. Once this lock is in position then the gearbox blocks it either by the Windshield or by the Door.
As you are aware, you can use the steering wheel for self defense and it resists sawing. So it is suggested you store this tool in the glove compartment of your car. And according to the Police, the steering wheel lock deters thieves. So this is another reason you should try to get the tool for your vehicles despite the cost.
This lock ships with 3 keys that you should store separately and in safe places. And the Maker also offers more tips to keep your vehicles safe when you buy it.
Verdict
It a unique design of Steering Wheel Lock. And it is also versatile and fits all automobiles with its basic thief deterrent functions. It is $25.99 on Amazon.
Pros
Has a handy design
And it fits all steering wheels
A handy tool for self-defense
Besides, they make it from steel and aluminium
Cons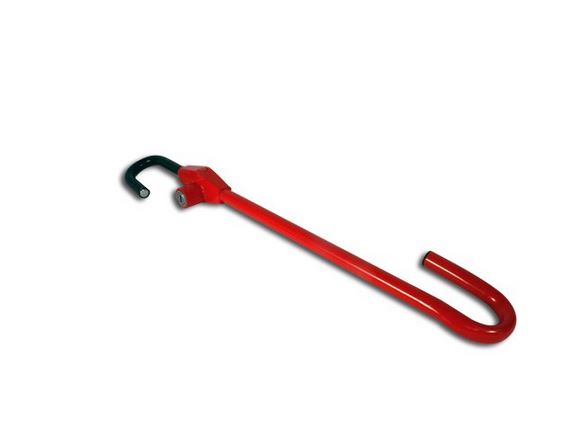 Design features
It has a unique design that is reliable and for total car safety. And when you install this tool, it locks both the steering wheel and the brake pedal. To achieve this, they made it easy to adjust the length of the steering wheel lock. The length of this design is from 22.5 to 30 inches. And you must fix it to two points like the steering only design types. First, you must fix one end to the steering wheel and then attach the second end to the brake and clutch before you lock it.
Suitable features
This design has two keys for locking the Steering Wheel. Also, it acts as a theft deterrent and it is painted in red color to make it very easy to see. The most vital part of this theft deterrent tool is that assuming it is actually stolen, it cannot be steered on corners and the thief cannot use the brakes too.
This means that you can adjust the steering wheel lock with ease and it is excellent for small cars, SUV and small trucks. But, note that thieves can saw the steering wheel lock with the right power tool if they have much time to do it. But as you know, the noise of that machine will draw the attention of neighbors and keep the car safe.
Verdict
It is a unique design that fits all types of automobiles. And car owners who need a versatile tool can buy it. Also, it costs $16.99 on Amazon.
Pros
It has a unique design
Locks both the brake and the pedal with the wheel steering
Easily adjustable length to suit your need
And it fits all cars, vans and small trucks.
Cons
But, it comes with only two keys.
Design features
Many cars on the road use this Steering Wheel Lock because it is handy and easy to install, and it also keeps your car safe. Once you fit it on the steering wheel and lock it the steering wheel stays totally locked.And you cannot take a right or left turn once this tool is in place. This is because of the way it is designed to go across the dashboard.
Suitable features
They made this car steering lock from Aluminum alloy and so the steering wheel lock is lightweight. Its size is 800g and you can store it in the car glove compartment and used it as a self-defense tool. It also has a key for locking it in position. Thieves cannot duplicate the key easily. But you can use the two keys that ships with the lock daily. This steering wheel lock is yellow in color and visible in the day and at night serving as an additional deterrent to thieves.
Verdict
It has a compact design and you can install it easily. And drivers who are often on the road need it more. Also, it costs $24.99 on Amazon.
Pros
Created with a compact design
Also, they made it from aluminium and steel materials.
And you can use it on steering wheels that have airbags
Once locked it does not allow any steering wheel movement
Cons
And the maker ships it with only 2 keys.
How to Disable steering wheel lock
Conclusion on this list of car steering wheel lock
In this article, I reviewed some of the best steering wheel locks that you can use for your car, SUV and small trucks. Also, they all come with unique designs and features. What they share is that they are steering wheel lock for cars. You can deter thieves by using them as they act as a steering wheel lock for your vehicles. Get them on Amazon now.