It is of utmost significance to keep a fire extinguisher handy in your car because the urgent need for its use may arise when you least expect. Placing a fire extinguisher in your automobile, home, or office, can help preserve your life and lives of others.
There are different types of fire extinguishers available in the market that comes with various specifications. We have taken time to gather facts and to bring the best car fire extinguisher .
This review gives details on the different types of fire extinguisher and their prices on Amazon.
Different Types of Fire Extinguishers
There are different types of fire extinguishers depending on the types of fire. We also have different types of fire. They include:
Class A: freely burning, combustible solid materials such as wood or paper
Class B: flammable liquid or gas
Class C: energized electrical fire (energized electrical source serves as the igniter of a class A or B fire – it ceases to be a class C fire if electrical source is eliminated)
Class D: metallic fire (titanium, zirconium, magnesium, sodium)
Class K: cooking fires – animal or vegetable oils or fats
Let's look at six (6) fire extinguisher types.
1. Wet Chemical Fire Extinguisher
The wet chemical extinguisher is specifically used for class K fires involving cooking media like animal and vegetable fats or oils.
These extinguishers contain a solution composed of potassium that effectively launches a two-pronged assault on fires.
The liquid mist helps to cool the fire and a thick soap-like substance develops a seal on the surface of the liquid as a result of the chemical reaction of the solution with the cooking medium.
The wet chemical extinguisher is best used in kitchen setting and is ideal for K fires. This extinguisher is effective for class A fires where a matter like paper or wood catches fire.
2. ABC Powder Fire Extinguisher
An ABC powder fire extinguisher works by spraying a very fine chemical powder made up of mostly monoammonium phosphate. This acts as a blanket on the fire thereby quenching it. These fire extinguishers are efficient for stopping class A, B and C fires since it is not an electrical conductor and since it can successfully break the chain reaction in a liquid or gas fire.
3. Water Mist Fire Extinguisher
The water mist extinguisher features an innovative technology that is effective in quenching most classes of fire. It works by releasing microscopic water molecules that acts as fire suppression. Since excess water is dispersed in such a tiny fog-like outline, it decreases the level of oxygen in the air, thereby helping to extinguish the fire.

Also, the water particles from the fire extinguisher are drawn to the fire, thereby plummeting the temperature.
The water mist fire extinguisher use has been de-ionized. This makes it feasible for use on electrical fires since the de-ionized water will not act as a conductor. Water mist extinguisher can effectively be used on classes A, B, C and K fires.
4. Foam Fire Extinguisher
These fire extinguisher types are best for class A fires and the flammable liquids of class B. It would be inappropriate for it to be used on gaseous flames.
This extinguisher forms a type of foam that swells when it hits the air and covers the fire. This layer hinders the vapours from rising off the liquid to nourish the fire. The foam also has a cooling effect on the fire. Foam extinguishers are some of the best for liquid fires, such as gasoline fires, but can also be used on Class A fires involving solid combustibles like wood.
5. Clean Agent Fire Extinguisher
This extinguisher is a form of gaseous fire suppression that is stored in liquid form but changes to gas when sprayed. It is safe to be used around humans, and it is eco-friendly as it leaves no residue.
This extinguisher is composed of Halon and quenches fire by dropping the oxygen levels and obstructing the chain reaction. It is perfect to be used for rooms or offices filled with electrical and computer equipment. They are mostly used for class B and C fires.
6. Carbon dioxide fire extinguisher
This is the cleanest types of extinguishers to use as it leaves no residue and quenches carbon dioxide (CO2). It is just right for use on class B fires that entail combustible liquids.
7 Best Car Fire Extinguisher 2020 (Best Fire Extinguisher for Classic Car)
First Alert is a distinguished brand when it comes to fire extinguishers. The Standard Home Fire Extinguisher model produced by First Alert is light-weight, making it effortless to cart around. This fire extinguisher is graded 1-A: 10-B:C, according to standard regulations and checks. The metal valve and trigger are all constructed with building material.
This brand makes use of Mono-ammonium phosphate as its main extinguishing agent. It can be used to quench fires from electrical equipment, gas, paper, trash, gasoline, oil, and wood.
Additionally, this model comes with a safety-pin device to guarantee that there is no unnecessary leaking which can drain the fire suppression.
Pros
Fire extinguisher use is simple
The frame resists corrosion
It is waterproof
Effective on all fires
Minimum leakage
Cons
The mounting strap isn't big enough
Locking pin may fall if not fixed properly
The Amerex is a huge and well-built fire extinguisher that weighs 7 pounds, making it the strongest products on the market. The pressure, fire suppression, and discharge time this fire extinguisher is iconic. The Amerex is ideal for use on heavy-duty work, but not necessarily constructed strictly for factory workers. You can equally use it in your home, especially if the nature of your work exposes you to risk of fire outbreak.
Amerex comes with a distinguishing discharge time of 55 seconds, which is equivalent to the cooling effect of a 45ft stream of water. It can also be used to quench different types of fire, including forest fire; that is how strong this extinguisher is.
Pros
Unique discharge time
Effortless to fill and recharge
Comes with a good solution manual
Comes with a wall bracket
Cons
Doesn't have a mounting bracket
Container lacks padding which may lead to damage at some point in the delivery
Does not include a mounting bracket
The Kidde weighs about 7 pounds and is ideal to use in your office or work environment. This product graded at 2-A:10-B:C, and is effective at quenching all fires. It comes with an operating PSI of 100, and a discharge time of 12-15 seconds. You can stand at a protected zone of 10 feet from the fire before using this fire suppression.
This fire extinguisher, which is quite trouble-free to use, has a gauge that can indicate the level of operating pressure along with a charging device.
Pros
It has light-weight, making it easy for children to operate in case of fire outbreak
It comes with a rechargeable device
It comes with a mounting bracket
Host sturdy valve system
Instructions are printed visibly
Cons
Heavy to carry for children
Requires frequent checkups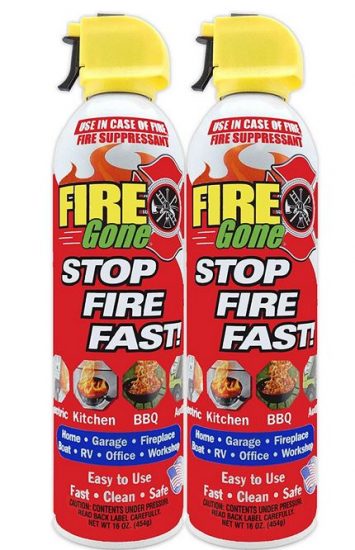 Fire Gone extinguishers comes in a pack of two canisters which are very easy to use as a fire suppression for small household flames. It has a light-weight of 2.75 pounds with a capacity of 16 ounces.
These fire suppression canisters are readily handy as their small size mean easy storage in a cupboard. It is produced with an extinguishing agent that is very effective against different types of fire, including fires produced by fabric, wood, grease, or electrical parts.
Pros
It is biodegradable and simple to clean up
Fire extinguisher use is easy
Can be stored inside kitchen cabinets and in vehicles
Comes in two fire suppression canisters
Easy to carry around
Downside
Can't be used to put out heavy and big fires
Not suitable for industrial usage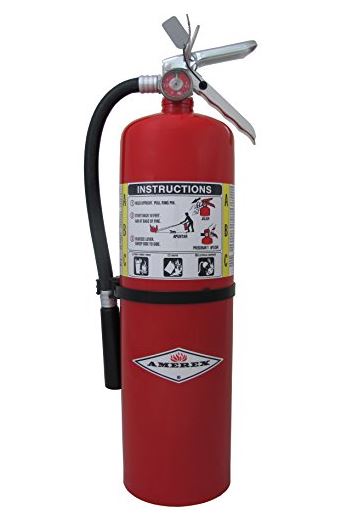 This fire extinguisher is the typical model used in public places and industrial sites. It's straightforward to operate and carry around due to its light weight.
This model is fine-tuned with an extinguishing agent that can deal with different types of fire.
This product comes with a high discharge time (20 seconds), making essential to be used in a work environment. Also, this extinguisher is produced using a metal which also includes a wall bracket.
Pros
Stored pressure design
Functional temperature range
All metal valve construction
Downside
The shipping process may lead to minor problem to a minor extinguisher frame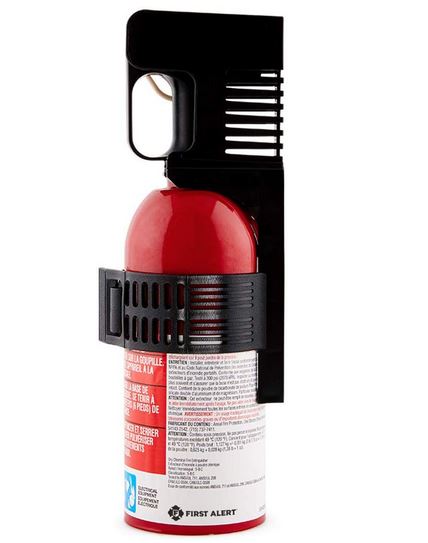 This is another fire extinguisher produced by the First Alert brand which is ideal for people who are always on the go. This smaller model weighs 2.2 pounds, making it effortless to store and to move from one place to another. This fire extinguisher is best for people who want to always store it in their cars.
This extinguisher is also the ideal model to use and teach kids on how to operate it during fire hazards.
This fire extinguisher comes with a mounting bracket for easy placement on the wall and features a large and easy to read pressure gauge, which make things easier for greenhorns.
This model is rated 5-B:C, making it ideal for automobile related accidents. Furthermore, its size also allows for its easy travel and storage. This model is rated 5-B:C, making it ideal for automobile related accidents. Furthermore, its size also allows for its easy travel and storage.
Pros
Used for flammable liquid and electrical equipment
It is easy to move around
It is light and durable, making it ideal for traveling
It features a stabilizing device, that makes it effortless to use in a moving vehicle
Downside
It cannot be used for heavy-duty work
It has no pressure gauge that can point to pressure level
#7. H3R Performance HG100C HalGuard Chrome Clean Agent Fire Extinguisher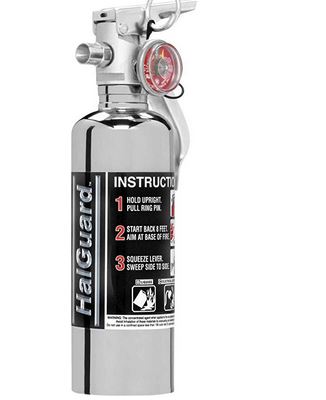 This is one of the best fire extinguishers available in the market. The mode of use and operation is quite easy. It is lightweight (3.4 pounds), and portable, making it easy for you to carry around.
This fire extinguisher comes with a mounting bracket, so you can fix it anywhere you want to. It is also constructed with high quality and full metal. It uses halotron as its major extinguishing agent. It has an ideal pressure delivery with a range of 6 to 8 feet.
The product concentrates in extinguishing fires in spots that are difficult to access. This is performed by the directed expulsion of liquefied gas, which is twice as effective as the standard issue used.
Pros
Utilizes liquefied gas to reach hard-to-reach places
Comes with a good and elaborative manual guide
Easy to use and recharge
Downside
The pin falls out if wrongly inserted
The label is pretty big and hard to get off
Conclusion on Best Fire Extinguisher for Classic Car
It's better to be safe than sorry. We hope that the above list could help you get a better sense of what you might be looking for. If you have any recommendations or feedback, you can get in touch with us via our email!
So, we have discussed the different types of fires, types of fire extinguishers and the seven (7) best fire extinguishers currently on market. It is left for you to ensure you get the appropriate extinguishers for your home, vehicles, and office premises. It may require you to get different extinguishers in different areas of your offices or homes.
It is important to lecture your kids and employees on how to properly use the fire extinguisher in case of fire eruption to prevent it from being used wrongly.
Also make certain that your fire extinguisher is properly maintained to prevent it from malfunctioning at a time of fire outbreak.
Better to be safe than sorry because prevention is better than cure!