When you notice any kind of smoke from your exhaust be it white smoke from exhaust on startup or when accelerating and even when idle, they all are indications that, your vehicle is having one issue or the other which need your attention.
How serious this will be, is totally dependent on the colour and type of smoke that is coming out. In most cases, smoke coming out of exhaust are usually due to condensation accumulated within the exhaust. The smoke produced for this reason will not have a direct impact, however, it's important that you understand the meaning and why you may see white smoke from exhaust on startup. Smoking is not limited to startups, you may also see white smoke from exhaust when accelerating and on rear cases, you may as well see white smoke from exhaust when idle.
There is a special scenario where white smoke on startup then disappears, we will talk about this here in this post.
But you must recognize that the information we share here, are of general note and so on special cases, you need expert mechanic advice that is specific to your circumstance and condition in other to fix or rectify the problem.
So let get into this article fully.
7 Causes of white smoke from exhaust on startup |white smoke from exhaust when accelerating and when idle
So if your turn on your car especially gas engine cars, then you see white smoke from exhaust on startup, there are a couple of reasons this is coming out, but you need to know on normal circumstances white smoke is t harmless.
However, there are times when it becomes a cause for concern and so we need to quickly sort for fix the problem yielding the smoke various condition.
So let start with why you might see white smoke from exhaust on startup.
Related Article: How to Remove white smoke from exhaust when starting car
What Causes White Smoke from Exhaust on Startup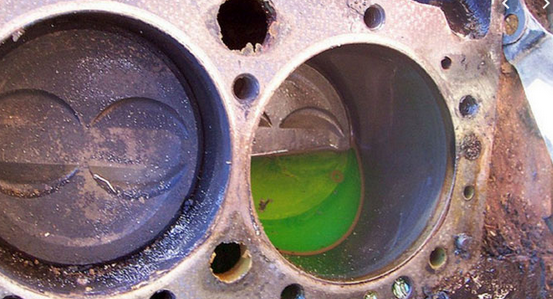 White smoke coming out of exhaust pipe might result due to so countless reasons however when you see white smoke from exhaust at startup, just know that your car is probably are having one of the following issues below:
A bad, warped or cracked cylinder head.
Failed or Faulty Head gasket
A cracked, Fractured or Bad engine block
So the reason any of the above issues may lead to smoke coming out of your exhaust pipe is because when there is a fracture on the engine block, head gasket or cylinder head, it allows coolant to start leaking into the car engine combustion system and the cylinders which then alters then normal operating system of the car and this is very unsafe for the engine and could damage the engine on long run.
That is why we recommend you seek for a solution the moment you notice white smoke whether it is the normal one that is harmless or not. Just look for a mechanic to run check on the car, or better still do it yourself.
So let's now look at why you see white smoke from exhaust when accelerating
What is the causes of white smoke from exhaust when accelerating?
The main cause of smoke from exhaust when accelerating is due to a burning coolant or transmission fluid problem.
White smoke due to transmission fluid
When the white smoke is as a result of transmission fluid, it means that the car engine is likely absorbing excess fluid from the vacuum pipe or hose which is what makes it produce white smoke.
This issue will also make the exhaust to produce a smell like a burned oil so you should look out for this as well.
White smoke due to Burning Coolant.
If the white smoke is caused due to coolant, then it very much likely that your car has a cracked cylinder head.
Or a leakage from the head gasket. This will normally come with a sweet pleasant smell.
How to diagnose this problem?
To check this, you want to run a pressure test on the vehicle coolant. Observe if they are low and if the car engine is excessively heated up. If it is overheating then it is a coolant problem with low coolant, but if it is not overheating then your car head gasket is leaking.
In this situation, you need to change it to a new one.
Watch this video on how to change your head gasket.
quick fix for white exhaust smoke
If transmission fluid is the problem, you need to fix this by changing out the transmission vacuum modulator valve.
But before changing it, you have observed fluid level to see if it is low or at its normal level. If it is below the normal level, you only need to add more transition fluid to meet the required amount.
Next in line is why you may see white smoke from exhaust when idle.
What causes white smoke from exhaust when idle?
So in a case where you notice white smoke from exhaust when idle or stopping your car, it simply means that there is oil within your car combustion chambers. The presence of oil in the combustion engine burns off your car exhaust system which makes your smoke as one of the many symptoms it might present other than smoking.
The easiest way to identify this as the problem is to notice the white smoking coming out when idle and then you also want to observe that what is burning is oil and not gasoline.
To recognize the various burning condition for both gasoline and oil or transmission is simple.
Gasoline burns explosively while transition fluid are subtle. Read this article to better understand how transmission fluids burns.
For burning issues with your transmission oil, you need to seek for a solution as quickly as possible because the longer you allow the oil to stay inside the more problem it is causing to your car spark plug which might keep you stranded on a location you are helpless to do anything to replace them.
What Causes White Smoke from Exhaust Once Cold?
In the weather condition, the white smoke may be quite traditional, however in some things, it is not. Continuous white smoke whereas driving is one amongst them. If you're having a diesel, white smoke is also unburned fuel or fluid browsing the engine. But mostly, it's the wrong widget temporal arrangement within the cylinders.
What Causes White Smoke from Exhaust Smells Like Gas?
Drivers should perceive the conception of smoke from cars. Usually, it's vapour or steam, since it's introduced into the chamber. For that reason, you'll have the water dripping from the pipe. Drivers also can see the water within the fuel or a leak within the gasket.
You might suppose it's traditional, however, that's the engine misfiring and pushing raw fuel out. In those cases, the automobile is running rough and drivers will smell a raw fuel smell.
In order to repair this, simply check the fuel and replace if necessary
Summery on white smoke from exhaust on startup
So this is where we will end it for this post on Causes of white smoke from exhaust on startup and when idle, accelerating and cold I hope this has helped you.
You might have to watch this video to see how to fix some of this white smoke problem.
See this video below.
Related Article: How to Remove white smoke from exhaust when starting car