As a driver, before you embark on any journey, your car tyre needs to have the right amount of air pressure. This is a guarantee that you will get to your destination safely without any hassle. One of the most common problems that every driver encounters is getting a puncture in their tire. You can fix that problem professionally but the most common way of fixing it is by getting a heavy duty tyre repair kit.
Your kit needs to be very tough so that it will be able to repair any sort of damage on the tire. This device is designed to permanently fix puncture from the inside without removing the rim. Imagine being in the middle of nowhere and getting a flat tire. That is one of the scariest things that could happen to anyone. So, it is very important to have a repair kit at hand. You do not even need any experience to be able to patch your tire up. You might Love to read this article 11 Best Trailer Tire Pressure Monitoring System & how it works
Why Should I Buy a Heavy Duty Tyre Repair Kit?
You can always patch your car up temporarily. Imagine travelling at night in an isolated area and getting a flat tire. Rather than going through the stress of changing the tire with a spare, you can patch it up until you take it for a permanent replacement.
Just because your tire is punctured does not mean you need to replace it. If you have a small puncture, you can always use the right heavy duty truck tyre patch kit. You will not have to spend money on getting replacements.
It is a way of securing yourself while travelling. There is no way you will be stranded by yourself on a lonely road because of a punctured in your vehicles' tire.
Types of Heavy Duty Tyre Repair Kits
Tire Sealant: These types of kits are always easy to apply. It works very well for small punctures and gets dry when it is out of the bottle.
Tyre Patch / String Plug: These are the most common type of tire repair kit. They are most effective for large punctures. A tire patch covers the entire puncture when you apply it. A string plug, on the other hand, is a piece of string that you insert into a hole with a tool until it fills it blocking air from escaping.
Best Heavy-duty tyre plug kit on Amazon
Tooluxe 50002L Universal
This is a heavy equipment tyre repair kit that is ideal in repairing Trucks, Motorcycles, Cars, and ATV'S. It is very easy to use when repairing punctures on tubeless tyres without removing it from the rim. You get up to 30 pieces of accessories when you opt for this kit. You can purchase it here.
PROS: When you choose it, you get access to a storage case that you can always carry in the comfort of your car in case of emergencies. It is also very affordable to buy.
Boulder Tools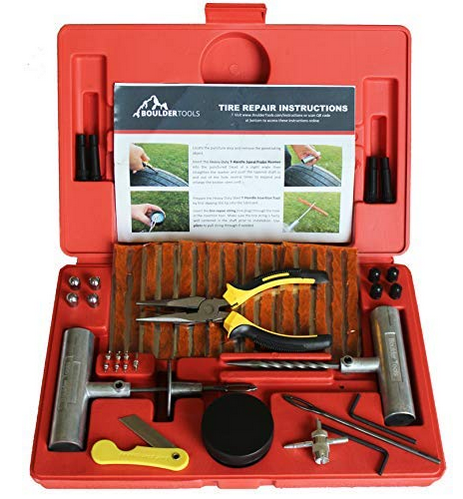 This is repair kit is ideal for trailers, truck, tractor, ATV, Jeep, and RV. It has quality strings that you can trust to seal up any puncture in your tire. Its brown string is much stronger than the strings in some other kits. As listed above, it is versatile and works for all types of vehicles. It consists of upgraded tools like pliers, valve, tiny knife, and also 30 tire plugs. You can purchase it here.
PROS: It is very fast and easy to use as it comes with adequate instructions.
Safety Seal KAP30
Like many other professional heavy duty truck tyre plug kits, Safety Seal KAP30 is one of the best options available for you. The insertion tool is metal, therefore the kit can repair tires with different models of vehicles. It also comes with a storage case that you can carry around with little stress. It is mostly intended for professionals to use rather than consumers. You can buy here.
PROS: It is very portable to carry around and comes with 30 rubber strings.
Slime T-handle Tyre Plug Kit
This repair kit is in a compact case and has most of the tools needed for simple operations. Its rubber handle makes it easier for users to work on the tire easily. You can repair the damage in the tire of your truck temporarily before getting to your destination. It repairs by filling the hole with rubber cement or inserting rubber strings. If you are on a tight budget, then this might be the best choice for you. You can purchase here.
PROS: It repairs tyre easily without you going through the stress of removing it from its rim. Although it is cheap, it repairs all kinds of tire effectively.
VICTOR Heavy Duty Tubeless Tyre Repair Kit
This is also another repair kit for your trucks that is very affordable. It repairs punctures in a wide range of vehicles. This kit is mostly for consumers and not professionals. It has five 4" heavy-duty plugs. You can purchase it here.
PROS: It comes with detailed manuals on how to repair your tire very easily.
ARB 10000010 Orange Speedy Seal Tyre Repair Kit
This kit can repair your tyre without detaching it from the rim. If you discover your tyre has punctured in the middle of a trip, all you need to do is seal it temporarily using a plug. It consists of items like a tire gauge which you can use to check the tire's air pressure, valve accessories, 30 repair plugs, and lubricants. You can decide to also separately buy spare plugs if you need some. You can purchase this kit here.
PROS: It comes in an orange compact case which makes it easier to carry around. Additionally, it is very easy to use.
Smittybilt 2733 Tyre Repair Kit
This is a heavy duty tyre repair kit for professionals. It is of high quality and it has an excellent case. The metal from which it is made is very durable and resists rusting. There are so many accessories you get to have access to with this repair kit. If you are a professional mechanic and you need to carry a repair kit, this is advisable for you. You can purchase it here.
PROS: It comes with instructions that are very easy to understand and follow. Additionally, it comes with heavy-duty and high-quality case.
Conclusion
Finally, those are the top best heavy duty tyre repair kits on Amazon. Before you choose one, you need to put your budget and the need for it into consideration. Anyway, it is advisable you get these repair kits available so you don't get stranded on the road.