Off-roading is a riding style that is more demanding than your traditional commute. If you're looking to leave the pavement for the first time, it's worth investing in alternative wheels. Check out these aftermarket rims, wheel and tire options before shopping online. Prepare for a thrilling off-road adventure with lightweight rims, dependable tires and comfortable seat covers for cars.
Compare Material Options
First, check out the materials available for your new rims. Changing up the type of material can have a big effect on the ride performance and longevity of these parts, so it's worth considering the most popular options:
Steel
Forged aluminum
Cast aluminum
Steel is a cost-effective option for off-road wheels. Compared to either type of aluminum, steel is far more durable, affordable and easy to repair. Unfortunately, it's also much heavier. If you're concerned with a blunt object cracking your rim, then go with steel. If an extra 10 pounds on each wheel seems like a lot of extra weight, then shed some pounds with aluminum wheels and rims.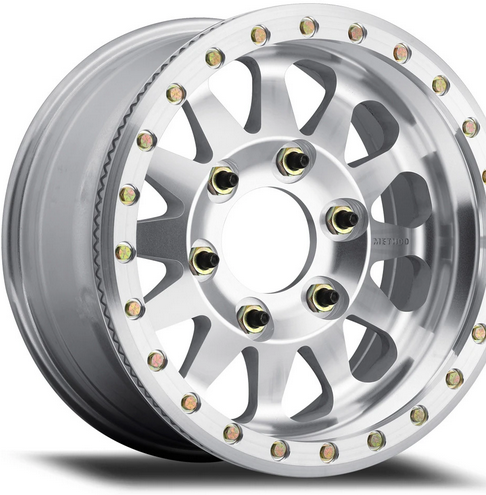 Related article: Wheels Bearing Replacement Cost (Ultimate Guide for Different Cars)
Forged aluminum is a premium option for serious off-roaders. Easily the most expensive type of wheel you can buy, forged aluminum boasts all the features you could want. Lightweight aluminum is forged for a far more durable design than cast aluminum. Whether you're towing a heavy load or conquering a muddy trail, forged aluminum is the rim type used by the pros.
Cast aluminum is an in-between alternative for serious off-roaders on a budget. If you're looking to drop weight without investing a lot into your wheel package, cast aluminum is a great option.
Alter Rim Sizes
The size of your rims and wheels matter, so compare them carefully. Don't assume you have to stick with your OEM rim size, but realize that changing up your sizing can require spacers, adapters or other accessories.
Be sure to check the weight rating of your new rims. Most aftermarket car rims for sale have similar weight ratings when compared with your stock ones, but some lower the weight rating and may compromise your off-road safety.
Larger wheels typically mean reduced sidewall. This isn't great news when you're headed to an off-road trail. Smaller wheels and rims can give you more sidewall, but too small and they won't fit over your brake calipers. Review your setup to determine the best wheel size and what you need to alter it.
Check Out Tires
Once you settle on a suitable set of wheels, it's time to fit them with new tires. Knobby, rugged tires are great for getting a grip in loose dirt and mud, but they won't perform well on asphalt. Match your tire dimensions with your new wheels and be sure to select all-terrain tires or tires specifically matched to your type of adventure.
Update Your Off-Roader by Shopping Online A serious off-road ride needs serious gear. Shop today to pick up forged aluminium rims, off-road tires, truck bed covers with tool box and other helpful gear. Kit out your truck with the latest gear and have it all conveniently shipped to your garage for a quick tune up.
Related articles: