In this post, you will learn about the best multimeter for DIY electronics available for your use today. Are you a technician or a DIYautomobile enthusiast, this post will give you a review of the best automotive multimeter you can buy on Amazon. Multimeters has three basic functions.
They are for measuring resistance, continuity, and voltage in electrical circuits and components. Moreover, this tool is essential for an electrician for testing to discover a bad switch, finding hot wires or extension cords and checking if a battery is dead and so on.
However, an automotive multimeter is either an analog or digital unit and you use it to test and measure electrical properties. Be sure also read this 7 Best Affordable Obd2 Scanner for Less Than $200
Also, you can use an multimeter to test and measure alternators, batteries, wiring, fuses, solenoids and several other components in a car.
Furthermore, the best automotive multimeter allows you to perform all standard and specific test for diagnosing electrical issues in automotives.
Also, Multimeters combines the properties of ammeter and an ohmmeter and a voltmeter into one.
And you use this tool, to detect likely malfunctions of your car battery, fuel delivery system, ignition, and several other electrical components. Let me show you the best multimeter for DIY electronics.
Related Article: 11 Best Electric Brake Controller Units Review
Best Fluke Multimeter: 9 Best Digital Multimeter For Automotive
#1. Fluke 87-V Digital Multimeter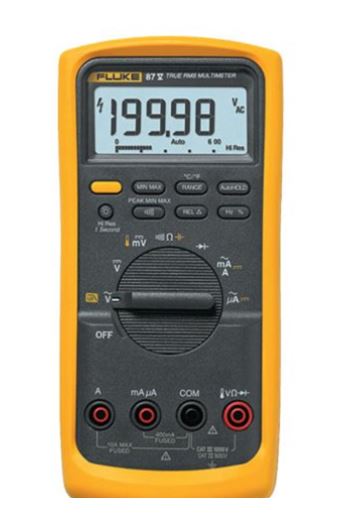 Fluke is a reputable company that makes several types of multimeters for your use. Hence, you can buy the brand that matches your budget.
This digital multimeter has an intuitive digital display for ease of use. Also, one unique feature is the integrated thermometer.
Besides, you can use this tool to diagnose electrical problems of your car. However, it is costly but dependable. It costs $260 on Amazon. Check It Out.
Other features of this fluke multimeter include:
CAT III/CAT IV
Also, it measures up to 1,000 VAC
Besides, it has correct frequency measurement on adjustable speed drives
Auto-ranging settings
Moreover, it has an unbeatable lifetime warranty
It comes with a filter that you can select and true-RMS AC
Also, it is designed and made in the USA
Related Article: 7 Best Affordable Obd2 Scanner Less Than $200
#2. Best Multimeter For Diy Electronics: INNOVA 3340 Digital Automotive Multimeter
The Innova 3340 is a popular option and cheaper than Fluke 87-V but works in a similar way. And it is a professional automotive multimeter that can accurately detect the electrical engine problem of your car. Also, you can use this tool to test the alternator diodes, wiring, switches, solenoids and many other components of your car. It costs $102.50 at Amazon. Check it out.
Other features of this best multimeter for DIY electronics are:
It can do auto-ranging with auto shut-off and overload protection
Test lead holders for hands-free protection
Also, it lets you probe the Temperature of the car engine
Having inductive RPM clamp
Besides, it comes with a carrying case
And it measures up to 600 VAC
It also has UL global safety certification
#3. Best Budget Multimeter: INNOVA 3320 Auto-Ranging Digital Multimeter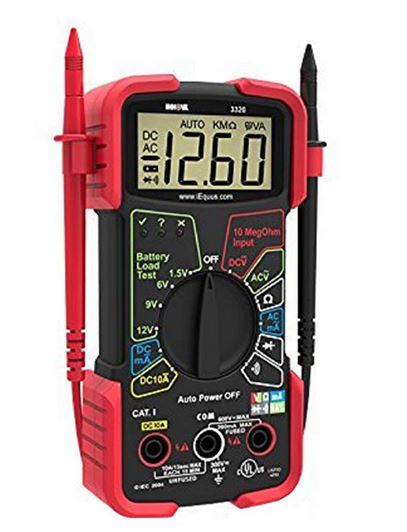 This tool is a more affordable unit of the Inova brand. And it  is one of the most popular automotive multimeters that comes with all the needed features to help you diagnose electrical issues of your vehicle.
And unlike other cheap units you see all over the place, this brand is certified by UL for safety.
Also, when you compare Innova 3320 with similarly priced alternatives, you will discover that this model has the required auto-ranging functions, and so you do not need to set the correct range manually.
But, it lacks some features which the more costly ones have. However, it is usable for basic car diagnostics and that is why it is part of the best multimeter for DIY electronics. It costs $19.99 at Amazon. Check it out.
Other features of this best multimeter include:
It has detachable testing leads
Also, there are Auto-ranging scales
It is easy to read the digital display
In addition, it comes with colour-coded LED's
Also, it has protective rubber guards
And it is fit for multiple applications
#4. Amprobe AM-510 Multimeter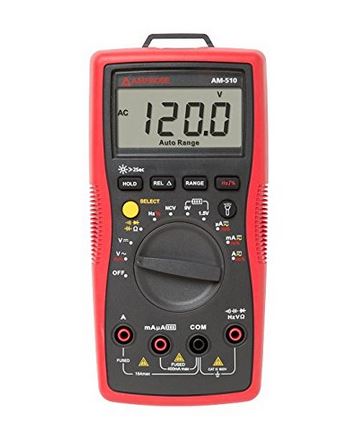 The Amprobe AM-510 is another multimeter that is popular and suitable for measuring voltage, resistance, capacitance, frequency and much more.  
Also, it's a compact unit and has a clear digital readout. The Amprobe AM-510 has been tested and found to meet CAT IV 600V / CAT III 1000V standards.
Besides, one of its key features includes the capacity to test a car battery to check the amount of charge remaining in 1.5v and 9v batteries. Also, it costs $105.35 at Amazon. Check it out.
Other features of this best multimeter for DIY electronics include:
Having a dual reading backlit LCD screen
It also has integrated flashlight for low light conditions
And it meets CSA, ACMA and EEA standards
Non-contact voltage detection
Moreover, it can measure up to 600 volts
NIST Traceable calibration certified
Also, it comes with Test leads and instructions manual
#5. Best Multimeter: Power Probe PPDMM Automotive Multimeter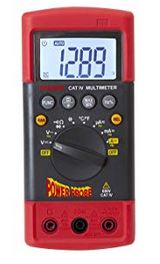 The Power Probe company specializes in automotive multimeters and electrical testing equipment. This PPDMM multimeter model is a well-rated option designed for heavy-duty usage in the garage location.
Also, you can use this multimeter to measure voltage, current resistant, frequency, duty cycle, true RMS, temperature, and capacitance. This tool is loaded with features yet affordable at $64.23 at Amazon. Check it out.
Other features of this best multimeter for DIY electronics include:
CAT-IV 600V
Also, has a large digital display
Loud indicator tones for alerts
Besides, it comes with a rugged rubberized housing
Automatic shut-off functionality
And it is designed for automotive use
It also uses AAA batteries
#6. Fluke Multimeter: Fluke 789 Process Meter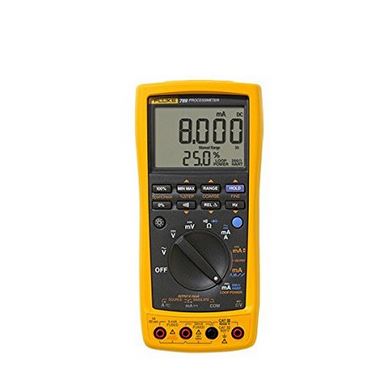 This tool was created by the Fluke corporation the popular world leader in the manufacture, distribution and service of electronic test tools and software.
Fluke 789 process meter is a maintenance and calibration tool that all technician's toolbox needs.
Also, this tool gives you the ability to measure, source, and simulate the DC loop current with 0.05 percent accuracy and 1 MA resolution.
The Fluke 789 multimeter is the ultimate for troubleshooting for electricians and instrumentation professionals.
Furthermore, it combines the functions of a loop calibrator with the power of a digital multimeter. This general use digital multimeter, costs $890 at Amazon. Check it out.
Additional functions of this fluke 789 process meter include:
A plain LCD display with Backlight
Also has a huge dual display with improved backlight with 2 brightness settings
Besides, it runs about 50 hours classic (measurement), 12 hours typical (sourcing 12 mA) on one 9-volt alkaline battery
And you can maximize your efficiency with the wireless data logging resources of Fluke
Also, you can connect with ShareLive video call (sold separately).
#7. Actron CP7677 Best Budget Multimeter For Automotive
Actron is popular for its professional automotive equipment and the CP7677 is their highly acclaimed multimeter. Also, this tool has one of the largest digital displays when you compare it to other alternatives, that let you view clear data feedback from your probes.
And when you use this automotive multimeter, you can test for faulty wiring, fuel delivery systems, ignition issues and many other components.
And the multimeter is affordable at $39.99 on Amazon. Check it out.
Other features of this best multimeter for DIY electronics tool include:
Being listed by UL and ETL for safety
Also, it has a fold-out stand for hands-free usage
And you can switch between 4, 6 and 8 cylinder modes
Moreover, it is equipped with overload protection on all ranges
10 Ohm impedance
Also, it comes with a color-coded test leads and alligator clips.
8. ESI 585K Deluxe Automotive DMM
The ESI 585K Deluxe is yet another brilliant multimeter for automotive. This tool ships as a complete kit with a notable 45 test range, 14 test functions and a dual fuse protection. Also, added is an integrated tilt stand for more well-organized testing.
The ESI 585K Deluxe display provides both analog bar graph and digital readings.
This gives you the choice to view data the way you want. Also, you can get this tool on Amazon at $ 87.62. Check it out.
Other features of the best multimeter for DIY electronics include:
It has test ranges of 45 and 14 test functions
And comes with dual fuse protection
Also, inbuilt 10 meg/Ohm input impedance
Moreover, it has integrated tilt stand
Besides it ships with test probes and alligator clips
Also, added is a zip able storage bag
#9. Best Budget Multimeter: Etekcity MSR-R500 Digital Multimeter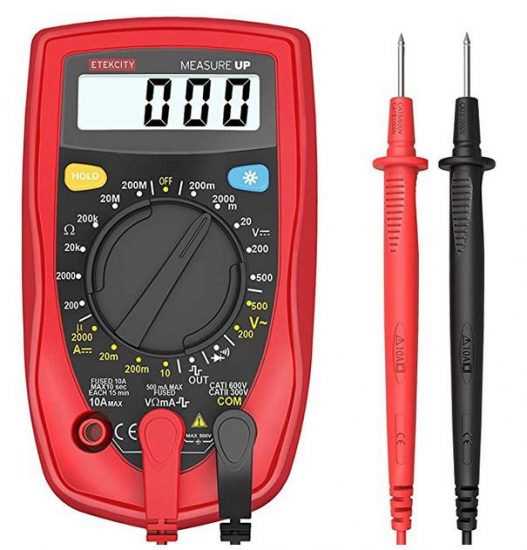 This Digital Multimeter is the most affordable in this list of digital multimeters. It is a basic automotive multimeter yet, it provides instant feedback when you are testing fuses, wiring and the battery.
Also, it was manufactured by Etekcity.  And the Etekcity MSR R500, is suitable for basic automotive testing and it can measure AC/DC voltage.
In addition, it can carry out numerous tests and shows the data report via the digital display.
If you compare it to premium options, it still comes with a two-year warranty and lifetime support. Also, it costs $10.78 at Amazon. Check it out.
Other features of this best budget multimeter include:
Being easy to read the digital display of data on the screen
And it has a support stand for hands-free usage
Also, it is covered with a durable rubber sleeve
Works properly for up to 500V
Also, has Data hold functionality
And tests diodes and the continuity
It comes with manual ranging
Conclusion on the best multimeter for DIY electronics
This post gave you a review of some of the best multimeter for DIY electronics. You can get any of these listed best Fluke digital Multimeter, Fluke multimeter or even a fluke 789 process meter in this list.
This tool will help you to diagnose car battery and electrical problems of your car and more. Get any of these recommended best digital multimeter for automotive from Amazon to solve your cars electrical or battery issues fast. You may want to check out other guides on the best multimeter for DIY electronics too. I hope this article has helped you? if has please share it.